Ensuring Your
Entire Home Is Safe for Your Baby
Addressing All Areas of Your Home with Custom Babyproofing Services
As a parent, you only want the absolute best for your child. At Safe Baby, that's our focus too! Therefore, our babyproofing services cover a wide range of areas in your home including:
Safety Gates
Hearth Gates
Cabinet Latches and Locks
TV and Furniture Straps
Door Locks and Door Stops
Window Blind Cords
Electrical Safety (outlet covers, plugins, box covers, power strip covers)
Bathroom Safety (toilet locks, cabinet latches, slip resistant bath mats, tub pads, spout covers)
Corner Cushions and Padding
Fire Safety (CO2 detectors, fire escape ladders)
And more
When you choose to partner with Safe Baby, we will work with you to identify problem areas in your home and come up with a secure babyproofing solution. Our custom approach to babyproofing means that your home and/or office solutions will be tailored directly to your needs as a family. While the team at Safe Baby will do everything in our power to ensure that your home offers a safe environment for your child, nothing can substitute the benefits of thorough parental supervision. For further information, read through the babyproofing checklist below to see if you've thought of and addressed each of these areas in your home.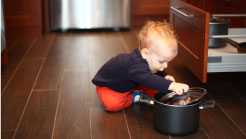 Depending on their age and height, a child could reach the handle of cookware and spill hot contents on themselves. Prevent your child from reaching pots/pans on stovetop through parental supervision. At minimum: use back burners first and point all pot and panhandles back toward rear of stove.
Any child can reach potentially dangerous items, if unsupervised. Latch all cabinets and drawers from the height of the counter and down.
Your child may climb on an unstable TV stand and/or pull themselves up on the TV itself, resulting in the heavy television tipping forward onto the child. Remember to anchor your TV to the stand or to a wall.
A child can easily fall head first into a toilet and face the risk of drowning (in as little as 1 inch of water). Keep toilet lid closed and locked when not in use, and/or keep bathroom door closed and locked.
Your toddler may fall in bathtub due to the overly slippery surface. Prevent falls with non-skid bathmats or adhesive decals. Don't forget to also use a handle device to assist toddlers in standing up, entering or exiting bathtub.
Blind and/or drapery cords pose a significant strangulation risk from the looped inner (between the blind slats) and outer cords. Keep cords permanently out of reach of children. Do not place crib within reach of window blind. NEVER tie or knot cords together.
Your child may access a room/area/closet/stairs, which pose a risk of injury. Lock all doors/cabinets/closets to restricted and/or possibly dangerous areas.
The small rubber piece on tip poses choking hazard if removed by child. Replace with the one-piece doorstops available from Safe Baby.
For railings with spaces over 3-1/2 inches: the danger of strangulation between bars exists, as body parts can fit through and head cannot. Install a Plexiglas or flexible plastic shield over entire width of railing.
It is possible that your child can reach knobs and turn on oven or stove, potentially resulting in a burn injury. Through constant supervision, prevent your child from reaching or operating stove knobs.
If a child can access the latch to open the dishwasher, there is a risk of injury from utensils, standing on the open door or hot steam from the cleaning process. If available, use the lock on your dishwasher door at all times. If no lock exists, use a dishwasher guard to block entry to knobs, buttons and latching mechanism.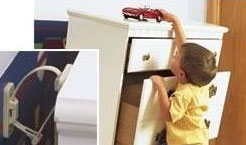 Furniture located too close to a balcony, deck rail, window, or other area, which poses risk of injury or death from falling at dangerous height, is an unwise option for your home. Do not place "climbable" furniture up against deck railings that are high above ground level, unsecured open windows, or 2nd/3rd floor balcony railings or half walls.
A child may turn on the hot water tap and receive significant burn from scalding water. Always cover the hot water tap and set your water temperature to 120 degrees.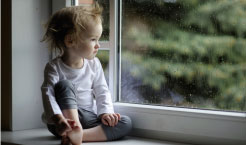 Children can sustain injuries by bumping or slamming into sharp corner/edges of furniture or fixtures with their head or other body part. Always cover hard surfaces with sharp corners and edges with a soft padding to help prevent serious injury and cushion the child from impact.
Children may pinch their fingers in hinges when opening/closing door and/or may access dangerous items inside said door. Lock bi-fold door to prevent pinching of fingers and to deny child access to room/area behind bi-fold door.
If your oven is on, your child can easily open the oven door and get burned. When cooking or using the oven, always supervise your children. You should also lock the oven door to prevent child access.
A child could easily open a refrigerator door and access the contents inside, some of which may be unstable and come tumbling down. Always use a latch on your refrigerator door(s).
Children have a tendency to pull and/or climb on shelves/drawers, resulting in the furniture tipping forward onto the child. It is in your best interest to anchor furniture securely to wall or other stable surface.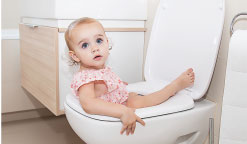 Children can bump their body on the bathtub spout. Cover the bathtub spout with a soft, colorful spout cover for your child's safety.
Your child may open and/or fall through window (or screen) to surface(s) below, causing injury or death. Keep windows closed and locked, or prevent the child from opening window more than 4 inches. Remember to install window guards for windows that will be open more than 4 inches!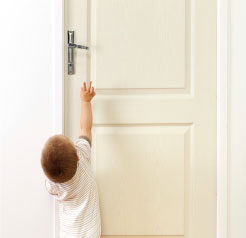 The chest lid can slam down on your child's fingers, arms or head. Be sure to install chest lid support(s) to prevent lid from slamming shut once child removes hand(s) from lid.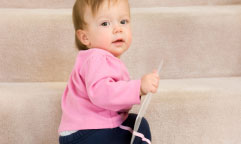 Children can tumble down stairs easily from either the top of the stairs or after climbing up stairs. As a parent, it is always best to gate off the top (installed gate only) and bottom of your staircases.
A child can access the buttons or openings in equipment and cause injury to themselves or equipment damage by sticking fingers and/or objects into equipment. Use guards and/or locks to prevent access to audio/visual equipment by your child.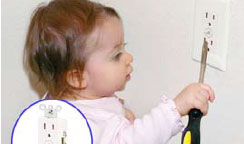 Child may pull cord(s), exposing electrical outlet(s) and possibly bringing down lamps or other objects onto child. The risk of electrocution is present if the child chews through the electrical cord. Organize electrical cords by:
Covering them
Wrapping up unused cord and tying off with nylon or Velcro ties
Running single cords along base molding or wall and secure using cord holders or within cord covers
Bringing groups of cords together with ties and covering with plastic flexible tubing.
Out of sight, out of mind, is a good rule of thumb for electrical cords and other hazardous materials/items!
If space between rails and/or space at bottom of railing is greater than recommended for safety, it poses the risk of strangulation and/or falling from dangerous height. Cover railing with weather-resistant plastic netting.
Children can sustain injuries from falling & hitting hard surfaces – especially edges and corners. Cover the hearth edges and corners in your home with corner and edge cushioning to help prevent injury.
Child risks for fireplaces and hearths include the danger of burn injury or smoke inhalation, and fireplace tools and/or hard hearth surface (brick or marble) may cause injury. Restrict your child's access in and/or around fireplace with gate or by securing fireplace door/screen.
Home fires can be furious and deadly. Use the tips below to prevent fires and develop a safe home for your child.
Smoke Alarms: Install at least one smoke alarm on every floor for your home (including basement) and outside each sleeping area. If you sleep with the door closed, install smoke alarms inside the room. Remember to test your smoke alarms monthly, replace batteries at least twice a year, and replace smoke alarms every 10 years.
Develop & practice home fire escape plans. Use escape ladders for multi-level structures.
Install a multi-purpose fire extinguisher close to an exit and keep your back to a clear exit when using the device.
Keep matches, lighters and other heat sources out of children's reach!
Out of sight, out of mind, is a good rule of thumb for electrical cords and other hazardous materials/items!
Babyproof Your Home or Business With Help From the Experts
Safe Baby is ready to take the babyproofing burden off of your shoulders and create a secure home or office for your child to explore. Contact us to learn more about getting started!